Hayward Energy Solutions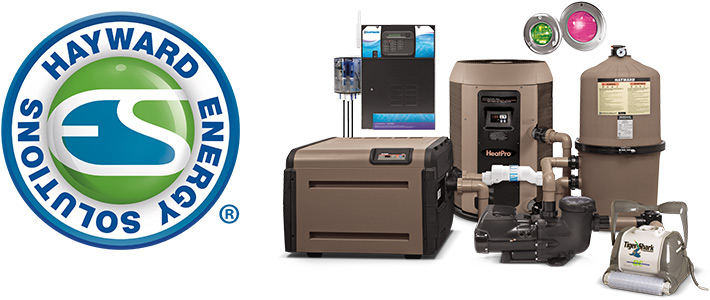 Energy Efficiency Runs in the Family.
Energy efficiency is great for the environment — especially for your backyard environment.
What if the technology behind your pool products would provide worry-free, low maintenance, crystal clear water that's just the right temperature, while saving energy and ultimately lowering your costs? Hayward®'s Energy Solutions line (as a whole or a la carte) is without a doubt the technology for the job. Our products save energy, water, run quietly, and reduce operation costs—and that helps protect our planet for future generations.
Today you hear a lot about going "green" and our responsibility to reduce our carbon footprint. At Hayward, we have always been committed to conserving energy and being kind to the Earth. We have been manufacturing cost-effective, Earth-friendly, energy saving pool and spa products for years.
Our Hayward Energy Solutions line of products is designed to be just as good for the Earth as it is for the pool owner. You will find environmentally conscious products that save energy and money, while enhancing your overall pool experience as well. The Line is comprised of the latest pool products including pumps, cleaners, filters, heaters, lighting and controls. Each "green" product features energy efficiency and offers a direct cost-savings to you.
As with most our Products, our energy-efficient equipment is compatible with most existing pads, making it possible to easily retrofit. Now you can experience true relaxation, knowing the Energy Solutions product you've purchased is environmentally friendly with value added benefitsso both you and your energy bill can relax. Conserve energy, water and money.
Our Energy Solutions products are the perfect cost-savings solution when it comes to replacing your pad's older equipment. When the time has come to upgrade your equipment pad, make sure you include products from the Energy Solutions Line. It's all of our responsibility to save planet Earth. Hayward continues to strive to develop products that are not only environmentally friendly but also benefit pool owners in the ease and operation of their products while providing energy savings.
Hayward's Line of Energy Efficient Products